Sailing
Small boat sailing is popular, especially at Hat Nai Han, Hat Patong and Hat Kata. Toppers and Dinghies are found at Hat Patong, while Catamarans, Hobie Cats and Top Cats are available at Hat Kata.
Deep Sea Fishing
Daily tours, departing early morning and returning late afternoon, cruise around the smaller offshore islands for game fish.
Swimming
You can enjoy swimming throughout the year with good conditions in most locales. However, there are undertows off certain beaches, especially hazardous in the rainy season. It is best to seek local advice regarding safety.
Snorkelling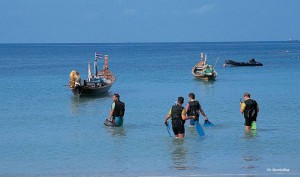 This can be enjoyed at many sheltered bays around Phuket, the most readily accessible spots being Hat Patong, Hat Kata and Hat Karon. Fins, masks and snorkels can be rented on a daily basis from numerous shops around the island.
Scuba-diving
Dive boats regularly leave Phuket for expeditions of 1 to 7 days around neighbouring islands, as well as further a field, notably to Mu Ko Phi Phi, in Krabi, some 2 hours east of Phuket, and Mu Ko Similan, which lie in Phang-nga some 110 km. north-west of Phuket. Several dive shops are concentrated in Hat Patong, Hat Kata and Hat Chalong areas. These dive shops also have Thai and expatriate dive instructors who are qualified to provide expert tuition. All diving equipment is available for hire.
Sea Canoeing
This form of ecotourism, exploring islands and marine caves that are accessible only by canoe, has become extremely popular in recent years. Day tours and overnight camping trips, mostly in Phang-nga, are offered by various sea canoecompanies, with full details being available from TAT's Phuket office.
Yacht Charters
Yacht charters, either with or without crews, as well as sailing courses are available. Contact TAT's Phuket office for names of charter companies and full details.