Phuket's glory is its magnificent coastline. Beaches ranges from gentle crescents of white sand to rocky headlands. Counter-clockwise, from the island's northern tip, where the Sarasin Bridge connects with the mainland, the major beaches and bays are:
Hat Mai Khao
This pine-fringed stretch of sand is Phuket's longest beach. Each year, from November through to February, giant sea turtles struggle ashore to lay their eggs here.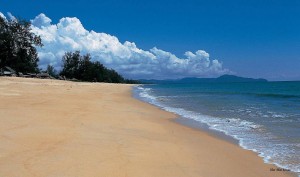 Hat Nai Yang
This forms part of the Sirinat National Park and is backed by casuarina pines, as well as a mangrove forest. The tranquil surroundings are ideal for relaxation, picnics, swimming and snorkelling.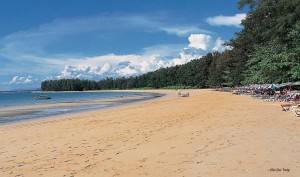 Hat Pansea & Hat Surin
The two scenic coves offer very picturesque settings although dangerous undercurrents can make swimming unsafe.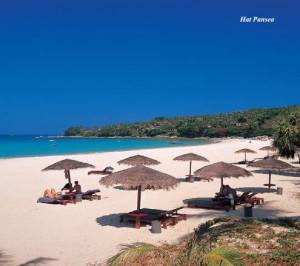 Hat Kamala
Another fine stretch of sand. The northern end, which is partly shaded by casuarinas, is suitable for swimming.
Hat Karon & Kata
Both beaches are impressive, peaceful and eminently suitable for swimming, snorkelling, windsurfing and sunbathing.
Read more: Phuket – Beaches & Bays (2)