Laem Phromthep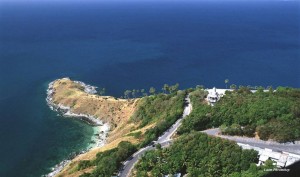 The southernmost point of Phuket is the perfect place where picturesque sunsets are seen.
Ko Racha Yai
The gleaming beaches can be reached by chartered boat from Ao Chalong. It takes about 2-3 hours for the boat trip during the off-monsoon season (December-April). At Ko Racha Yai, there is the most perfected and versatile of corals for visitors to see. Sightseeing services are available from tour operators in town. Accommodation is available.
Ko Kaeo
This is an offshore isle about 3 km. from Hat Rawai and can be reached in 30 minutes by boat. There are sandy beaches and a captivating underwater scenery, as well as a replica of the Holy Footprint on the island.
Namtok Ton Sai & Khao Phra Thaeo Wildlife Sanctuary
An idyllic setting cooled by sonorous cascades, this 22 sq. km. area is rich in wildlife, including bears, porcupines, gibbons and macaques, as well as over 100 bird species. For nature enthusiasts, the sanctuary has also mapped out walking trails.
Wat Chalong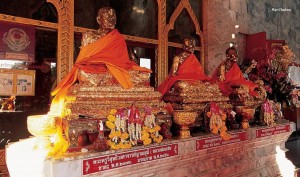 A few kilometres inland from Ao Chalong, the temple enshrines statues of Phuket's two most revered monks: Luang Pho Chaem and Luang Pho Chuang.
Wat Phra Nang Sang
A historical Phuket landmark, Wat Phra Nang Sang was originally a fort built to resist Burmese invaders. Enshrined in the main hall are three old and large Buddha statues made of tin.