Mueang Phuket
The compact provincial capital serves mainly as a commercial and shopping centre although traces of the old Sino-Portuguese architecture provides distinctive character.
Khao Rang
This provides a pleasant view of the town, also a park and series of hillside sculptural tableaux.
Phuket Fantasea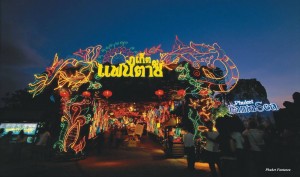 Inspired by Thailand's rich and exotic heritage, Phuket Fantasea not only showcases the charm and beauty of Thailand, but also enriches ancient Thai traditions with the wonder of cutting edge technology and special effects. The result is a stunning 140-acre theme complex packed with a multitude of activities and entertainment: a festival village with carnivals, games, handicrafts and shopping; a 4,000-seat restaurant offering a grand buffet of Thai and international cuisine; a breath-taking Las Vegas-style theatrical show, where state-of-the-art technology and special effects enhance the beauty of Thailand's myths, mysteries and magic in a wondrous extravaganza certain to delight everyone.
The Thai Village
On Thep Krasattri Road, the village serves typical southern Thai specialities for lunch and dinner, as well as staging cultural shows featuring Thai dances, sword-fighting, Thai boxing, elephants and local customs. Handicrafts are also on display.
Thalang National Museum
Located near the Two Heroines Monument, the museum contains a collection of exhibits of ancient artefacts and other materials illustrating life in old Phuket.
Wat Phra Thong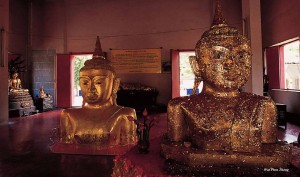 Inland from Hat Nai Yang, the temple enshrines a famous, partially buried Buddha image. Local legend relates how a boy tethered his buffalo to what he thought was a post sticking out of the ground. Subsequently, this boy and his animal fell mysteriously ill. Suspicious villagers uncovered the post and found that it was the decorative topknot of a buried golden Buddha. They were able to unearth no more than the upper part of the image, over which the present temple was constructed. When Burmese invaders attempted to remove the statue in the 18th century they were attacked by a swarm of hornets.
Pearl Farms
Several pearl farms are located in and around Phuket. Please contact TAT's Phuket office for details of arranging visits.
Native Handicrafts Centre
Located on Thep Krasattri Road, the Centre has artisans skilled in silk weaving, lacquerware, silverware, jewellery-making and the crafting of parasols.
Phuket Butterfly Garden & Insect World
The farm is situated 3 km. from town and has a fascinating collection of such tropical creatures as butterflies and insects; all displayed in natural surroundings. Open daily 9.00 a.m. to 5.30 p.m. Tickets are 200 baht. Tel. 0 7621 5616, 0 7621 0861 Website: www.phuketbutterfly.com
Read more: Phuket – Major Sights & Attractions (2)